Top 5 Best Sellers in Multivitamins Supplements to Buy in the Bangladesh-2021
Top 5 Best Sellers in Multivitamins Supplements to Buy in the Bangladesh-2021
Multivitamins are a product that can be taken to supplement the diet. They're not just for people who don't eat their vegetables, they're also for people with poor appetite and individuals on chemotherapy or radiation therapy. If you exercise regularly, it's important to take a multivitamin because your body needs more vitamins than someone who doesn't work out as much. Taking one is an easy way to make sure you get what you need without having to worry about eating enough fruits and vegetables every day.
Multivitamins are a popular supplement for boosting the intake of vitamins and minerals. They can provide nutrients that people may not get from their diet or during exercise, such as calcium, vitamin D, iron and magnesium. The idea is to make up for any nutrient deficiency in your diet with one pill a day.

Some people take multivitamins because they believe they will improve their performance at the gym or help them lose weight.
Why Are Vitamins Necessary?
Vitamins are necessary for the health of a human body. They can be obtained from many foods, but sometimes they need to be supplemented with vitamins that the body cannot produce itself. In this post we will explore why it is important to take vitamins and how to choose them correctly.

Humans require an estimated 60 different types of nutrients in order to stay healthy, according to Harvard Medical School's website. Vitamins are one type of nutrient; without adequate levels in your system, you may experience fatigue or other symptoms that make it difficult for you to do daily tasks like running errands or doing household chores without feeling drained by the end of the day. There are two ways people typically get their vitamin intake: through food consumption and taking supplements
What are Top 5 Best Sellers Multivitamins to Buy in the Bangladesh? Here's our 2021 Top 5 list :
Optimum Nutrition, Opti-Men, 150 Tablets
21 Vitamins & Minerals

75 Active Ingredients

275+ mg of B Complex Vitamins

1 Gram of Free-Form Amino Acids
Animal Pak, The Ultimate Training Pack
The True Original Since 1983

Multi Vitamins & Minerals

Antioxidants and Amino Acids

Digestive Enzymes Support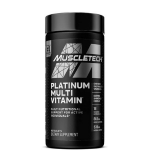 Muscletech, Platinum Multi Vitamin, 90 Tablets
High-Potency Vitamins

18 Vitamins & Minerals

865 mg Amino Support

Enzymes and minerals complex.
Optimum Nutrition, Opti-Women, 120 Capsules
40 Active Ingredients

17 Specialty Ingredients

23 Vitamins & Minerals

150 Milligrams of Calcium per Serving
EVLution Nutrition, VitaMode, 120 Tablets
Full Spectrum of Essential Vitamins and Nutrient.

Bone, Eye, & Immune Support.

Core Antioxidant Support.

Full B-Vitamin Complex.
What are Top 5 Best Sellers Multivitamins to Buy in the Bangladesh
Optimum Nutrition Opti-Men is a multi-vitamin that helps you optimize your body's performance. This formula includes over 75 ingredients to support the health and well being of men. It also contains antioxidants, which help reduce free radical damage, as well as vitamins and minerals for energy production and healthy metabolism. Opti-Men has a proprietary Nutrient Optimization System (NOS) that provides nutrients at optimal levels based on current scientific research.
The true original since 1983, Universal Nutrition Animal Pak provides a balanced, comprehensive nutritional foundation for serious athletes of any level. This supplement pack features a wide range of essential vitamins and minerals along with a proprietary blend of amino acids, digestive enzymes and antioxidants to help you recover faster from your workouts and maximize your performance. Universal Nutrition's Animal Pak is the right choice for all serious bodybuilders and athletes who want to fuel their bodies with premium nutrition!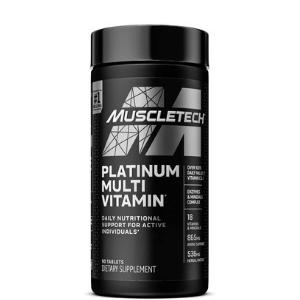 Muscletech Platinum Multi Vitamin is scientifically formulated to support your active lifestyle. Daily nutritional support for individuals who are looking for a multi-vitamin formula that contains an array of essential vitamins and minerals, along with herbal extracts, enzymes and amino acids. Platinum Multi Vitamin also features a proprietary blend of antioxidants, including vitamins A, C and E. All of these ingredients work together to help promote immune system health, energy levels and overall well-being. *
Optimum Nutrition Opti-Women is a multivitamin formulated specifically for active women. This supplement provides essential vitamins and minerals to support cellular energy, immunity, muscle health and bone health. It also contains antioxidants such as Vitamins C and E that help protect cells from free radical damage. Opti-Women can be taken daily to promote overall well-being. *
Evlution Nutrition's VitaMode Multivitamin is a precision-engineered, high performance multivitamin that provides the essential vitamins and minerals for optimal health. The formula features a proprietary blend of phytonutrients, antioxidants, B vitamins and other nutrients to support bone health, eye function and immune system activity. It also includes vitamin D3 to support calcium absorption. This nutrient-rich formula offers antioxidant protection against free radicals and oxidative stress while supporting healthy skin, hair and nails.
Frequently Asked Questions on BCAAs supplement
Q-1.When is best to take a multivitamin?
Answer: Multivitamins should be taken after eating a meal, so the nutrients can benefit from the stomach's digestive enzymes.
A lot of people take their multivitamin at night in order to support their immune system before bedtime, however this doesn't make sense because it would require that your food sat on your stomach for 10 hours while you sleep before any of those nutrients get utilized by your body. This is why nutritionists recommend taking them with breakfast, lunch and dinner. All three meals have a short enough time limit for digestion and nutrient absorption (between 45 minutes to 2 hours), which means all are great times to take your vitamin! In other words, choose whichever time of day you want that will work best with your schedule.
Q-2.Will multivitamins help me reach my daily nutritional targets?
Answer: Yes, if you take them daily.
Studies have shown that those who regularly use multisan products tend to have a better intake of important micronutrients. But don't think that just because the product is called "multivitamin" it has every nutrient in it. The supplement's label always makes sure to specify what nutrients are contained and their levels so that people know exactly what they're getting.
Q-3.How many multivitamins can I take a day?
Answer: Multivitamins should ideally be taken at the recommended dose. One serving a day is enough. Excessive intake of vitamins, especially vitamins A and E, can lead to toxicity.Taking too many supplements can have negative side effects
It's no secret that multivitamin supplements are often the only way to ensure you get all of your necessary nutrients. Whether you want more energy, weight loss benefits, or just a healthy lifestyle in general—taking a daily supplement can help achieve these goals and so much more! These are some of our top-rated products on the market today with customer feedback, research backed ingredients, and popularity taken into account. We hope this article helps you find your next multi vitamin supplement!