Type in the product name directly in the search box, or browse the Categories section for a full product list. You can also read the details of each product in that section.
Once the search-result is shown, click on the product(s) you are looking for.
It is your product-page. You can read the description of the product here, and get all the necessary information. You can also choose the suitable size from the dropdown menu under the Size label.
Click on Add to Cart button to add the product to your cart. Or you can call the WhatsApp number to talk or ask about the product. You can also choose the Quick Order option by giving your details in the boxes below.
Click on the Cart icon on the top right corner. All the products you added are shown here.
This is your cart. All the products you added are here. You can remove any product you don't need from this section.
You can check for a coupon code. If it is available, insert it here to get a discount. Then press Apply.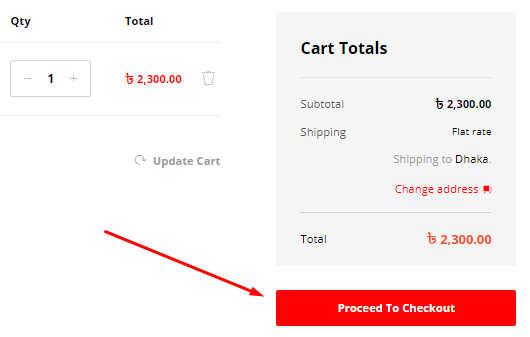 Click on Proceed to Checkout to finalize your shopping.
Fill in the boxes with your billing details. The asterisk (*) shows the required fields.
You are almost done. Click on the Cash on delivery if you want to pay after receiving the product. Leave the box unchecked if you want to pay right away. Check the Terms and Conditions box. Then click on the Place Order button.
Your order placement has been completed correctly. Wait to get the order on time.
Thank you
To log in or register click on the Login/Register button.
Click on the Login if you already have an account. Then put your username or email and password. Click Login.
If you are a new customer, click on the Register button. Choose a username, give your email address, set a password, and click on Register.
After successful login, click on your username following the word 'Hi'. Then click on My Account from the small menu.
This is your dashboard. Your account details, orders, downloads, account address-all are here. You can edit your information anytime you want. To logout, click on Logout at the bottom of the list.